Product Description
Free Shipping from UK/US/Czech, No Tax.
All of our products are original,so you can rest assured of the products quality.
In addition to comparing prices, quality and service should also be considered. We are the original supplier. All of our products are original,don't worry the quality. 
Besides,we have the strong technical support service and after-sale service. So,welcome to order !
PS90 is a high-end and new style auto diagnostic device developed by XTOOL based on Android system and Internet application. It combines the XTOOL Company's vast vehicle coverage, strong diagnostic functions, many special functions and modern high quality tablet together.
XTOOL KC100 VW 4th & 5th IMMO Adapter for PS90 to obtain the VW 4th &5th Immo, and no need to purchase the authorization.XTOOL KS-1 TOYOTA Smart Key Simulator for Xtool PS90/ X100 PAD2/ X100 PAD3/ X100 PAD/ Elite/ A80 H6 All Lost via OBD2 KC100 Fit For Toyota Smart Key.
Xtool PS90 OBD2 Car Diagnostic tool With KC100 key programmer for VW 4th 5th IMMO with KS-1 Toyota Smart Key Simulator

Highlight:
PS90 can work with XTOOL EEPROM Adapter. This is the difference from EZ400. It can not connect to the printer.
Diagnosis Function List
Key Programming Function List
Top 7 Reasons to Get XTOOL PS90 Scanner:
1. Support wide Vehicle Coverage for Full System diagnostic Function
2. Support multi Special Functions for different car brands. Special Functions: Key Programming, Mileage Correction, TPS, Oil Resetting, EPB, TPMS, Airbag Reset, ECU Reset (all vary by manufacturer)
3. Support Bluetooth/WIFI Connection
4. Multi Languages available: English, French, Spanish, German, Russian, Italian, Arabic, Polish, Portuguese, Turkish
5. One-click update via WIFI. Get the latest software whenever you want ! Never miss the update with pop-up update reminder
6. Remote access, which is perfect for training,demonstration and even remote diagnosis.
7. Diagnosis Reports in PDF File. Print out the diagnosis report and show it to car owners when they come and fetch their cars. They will be really happy knowing what kinds of problems have been fixed for their cars.
XTOOL PS90 Detail Functions Introduction:

Main Features:
Scans engine, Reads/Clears fault codes, Auto key programming/immobilizer, Oil reset, Turns off service lights, Scans auto transmissions, Turns off SRS airbag lights, Turns off ABS lights, Live data stream.
Powered by Android, the Xtool PS90 is a Pro Level scan tool with the added benefit of being a powerful tablet. Scan vehicles, reply to emails and surf the net all from the same device. Another fantastic new feature is the ability to send any issues with the unit or vehicles directly to the Xtool Engineering department from the built in help section. Connect wirelessly and be directly in touch with the manufacturer. Send them photos from the built in camera! Wifi also makes updates an easy process, unlike some tools.
Xtool PS90 Diagnostic Scan Tool provides incredible dealer level diagnostics at an affordable price for many small to large workshops. Connection between the diagnostic plug and the scan tool will be done wirelessly making the process even more effortless. Scan all systems, modules and even programme new keys, the depth to the Xtool PS90 is massive.


Diagnostic Features:

PS90 Supported Diagnostic Models

Special Functions Features & Vehicle List:





Key Programming Features:

1. New keys programming
2. Pin Code reading with EEPROM
3. Hexadcimal Editor(Win Hex)
4. Vehicle Identification Number programming
5.Reset ECM & Reset immobilizer
6. New Remote Controller Programming
7. With full and strong database for the most important vehicle makes


Mileage Adjustment Features
DPF Regeneration
EPS Steering Angle Sensor Calibration
Tire Pressure Reset
Tire Pressure Warning Light Reset (Manual Operation):
GM
BMW
LandRover
Mercedes Benz
Porsche
Volvo
Service light Reset
TPS Throttle Body Adaptation
EPB
The Replacement of EPB Brake Pad Supports for the Following Models:
VW ( R36, CC, Magotan etc.)
Audi ( A4L, A6L, Q5 etc.)
Seat
Skoda



XTool PS90 Software Feature:
* Open source Android Operating System for fast boot-up and multitasking
* Easy and intuitive navigation makes finding what you need simple and fast
* Extensive vehicle coverage for most US, Asian and European vehicle makes
* Complete capabilities for codes, live data, actuation tests, etc
* Cloud-based Data Manager saves customer and vehicle records, scanner data and technician notes
* Remote technical support for convenient demonstration, training and increased customer satisfaction
* Automatic Wi-Fi updates available in new software releases
XTool PS90 Hardware Feature:
* Extraordinarily powerful Rockchip 4Core processor
* 9.7" 1,024x768 LED-backlit glossy Multi Touch capacitive display with IPS technology
* Internal reliable and fast 8GB Solid State Drive for better performance
* Support TF card up to 16GB
* Built-in 5-megapixel rear camera with autofocus and flashlight
* Dual-band (2.4 GHz & 5.0 GHz) 802.11n Wi-Fi to access your favorite web resources
* Built-in rechargeable lithium-ion battery for up to 8 hours of continuous operation
* USB, audio and auxiliary ports make it easy to connect accessories
* The VCI connects to the main unit via Bluetooth

Update Information:

PS2/PS90 Gasoline Series Mercedes-Benz V16.21

Language version of the vehicle system software is currently released for Simplified Chinese, Traditional Chinese, English, Spanish


This version (V16.21) issued the following:

1.Increase the Transmission, Steering angle,Tyrepressure loss alarm (activated) and other common special function.
2.Increase more than seven languages: German, French, Portuguese, Italian, Dutch, Arabic, farsi.


XTOOL PS90 VS Autel DS708:
XTOOL PS90

AUTEL DS708

Supported vehicles

32

46

Supported function

Besides diagnose, also support key, IMMO,News tooth learn, ABS exhaust, support battery replacement set, ECU resetting, exhaust after treatment, electronic steering and so on

Mainly for diagnose

Language

English only

English, French, Spanish, Portuguese,
German

Update

online update

online update

XTOOL PS90 Paramter:


Xtool KS-1 can work with Xtool PS90 X100 PAD2/ PAD3/ PAD Elite/ A80 H6.

XTOOL KS-1 Toyota / Lexus all keys lost-free disassembly, Five-in-one simulation card for generating emergency simulation keys.

Once all the Toyota / Lexus keys are lost, the smart box and other modules in the car need to be disassembled, then turn on the ignition switch, so that the smart key can be removed and added, and the operation is tedious.

XTOOL KS-1 The five-in-one simulation card can eliminate the need to disassemble the smart box and other modules. As long as the original car data is read from the OBD to generate the simulation card, the ignition switch can be
turned on to realize the function of clearing and adding the smart key.


XTOOL KS-1 Features:

For Toyota/Lexus All lost Nodisassembly.
Support For To-yota / For L-ex-us all lost and dismantled, read the original car data from OBD to generate emergency simulation key, directly drive the car without disassembly, intelligent and efficient.

Intelligently Generate New Keys.
Through the reading of the original car data, a smart key is generated, which can then be operated according to the process of adding a key, supporting the generation, copying, and simulation functions of the key chip.

More Cars.
Support For To-yot-a 94 / D4, 98, 39, 88 / A8, A9 type smart keys all lost matching, matching speed is fast.

Reuse.
After matching the key, turn off the power or remove the battery to restore the initial state.

The free disassembly for all keys lost requires an original car key. By reading and decrypting the original car anti-theft data, writing the data to the simulation card is equivalent to generating an original car key. Then you can follow the key addition process.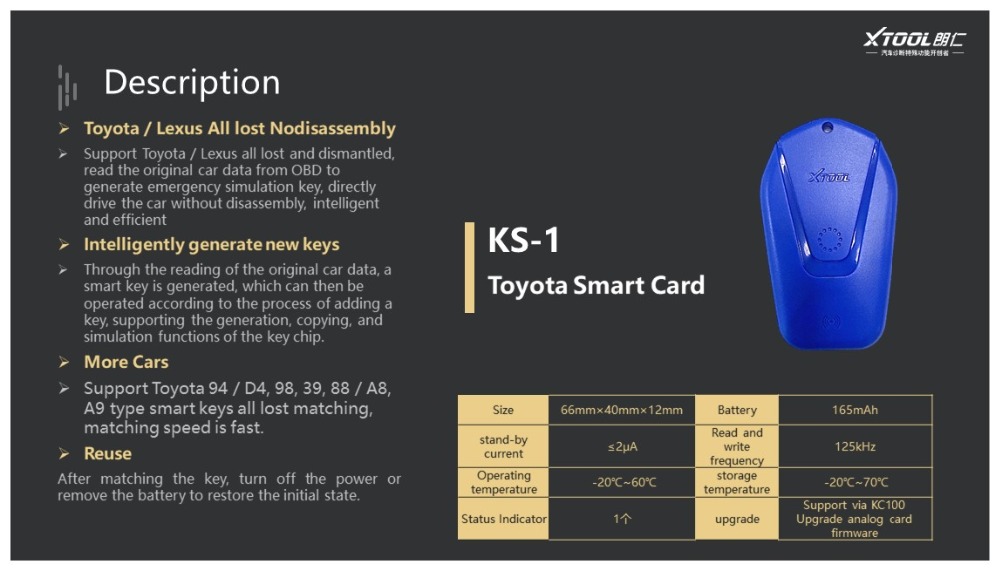 Compatible With Those Devices Work together
XTOOL X100 PAD2 (need buy kc100) https://www.xtoolstore.com/wholesale/xtool-x-100-pad-2-special-functions-expert.html

KC100 https://www.xtoolstore.com/wholesale/xtool-kc100-adapter-for-pad-2-with-vw-4-5-immo.html

X100 PAD2 PRO https://www.xtoolstore.com/wholesale/x100-pro-obd2-auto-key-programmer.html

A80(need buy kc100) https://www.xtoolstore.com/wholesale/xtool-a80-h6-diagnostic-tool.html

PS90(need buy kc100)https://www.xtoolstore.com/wholesale/xtool-ps90-tablet-diagnostic-tool-support-wifi.html

H6(need buy kc100)

X100 PAD3 https://www.xtoolstore.com/wholesale/xtool-x100-pad3-auto-key-programmer-for-toyota-lexus-key-lost.html

X100 PAD Elite(need buy kc100)
XTOOL KS-1 Toyota Smart Card Support Toyota 94 / D4, 98, 39, 88 / A8, A9 type smart key all-key-lost matching.
The simulation card can be reused. After matching the key, turn off the power or remove the battery to restore the initial state.
Support generation, copy and simulation of key chip.
XTOOL KS-1 TOYOTA SMART KEY SIMULATOR The key type has been tested:
No.

vehicle

Year

Key type

Support or not

Remarks

1

RAV4

2015

88

Yes

 

2

Alphard

2013

94

Yes

 

3

Alphard

2015

A9

Yes

 

4

Previa

2008

94

Yes

 

5

Crown

2010

98

Yes

 

6

Crown

2015

A8

Yes

 

7

Crown

2016

A8

No

After 2016, Toyota crown is not supported
TANGO, K518 even rival products are not supported

8

Prado

2011

98

Yes

 

9

Previa

2013

94

Yes

 

10

Reiz

2011

98

Yes

 

11

Innova

 

39

Yes

The car is being tested for the Indian Tango


XTOOL KS-1 TOYOTA SMART KEY SIMULATOR Specifications:
Parameter

Index

Battery

CR2025 3V 165mAh

Standby current

Standby current≤2μA

Reading and writing frequency

125kHz

Status indicator lamp

1pc (mode: turn on and light up for 2s and then extinguish; Flicker, flash, 0.5s/ time when writing or reading)

Update

The simulation card firmware can be updated

with KC100

Working temperature

-20℃~60℃

Storage temperature

-20℃~70℃

Structure size

66mm*40mm*12mm

Package Including:

PS90 Tablet
KC100 Adapter
KS-1 TOYOTA SMART KEY SIMULATOR
VCI BOX
Tool Box(Carton Sticker)
Carton
MAZDA-17R
KIA-20
FOR BMW-20
HONDA-3
KIA HYUNDAI-10
OBD2-16
SELF TEST(OBD16)
TOYOTA-17
NISSAN-14
UNIVERSAL-3
FIAT-3
AUDI-4
SUZUKI-3
CITROEN-2
MITSUBISHI12+16
Main Cable (DB15 Double Male Cable with Power)
USB3.0 CABLE
DC5V-2.5A Power Adapter
Micro USB Charger Cable
Battery Clipper
Cigarette Lighter
Certificate of Quality
Packing List
User Manual
Contact information:
Live Support:
Chat with us online
Email:
Sales@xtoolstore.com
Tel:0086-18350207975
whatapp:0086-18350207975
Join our community: